History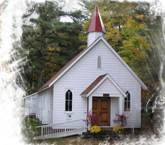 In 1908 the first church was built on this site by a group of summer residents who wished to have a place to worship during the vacation period. It was erected at their own expense and largely by their own labours.
The cornerstone was laid on Saturday, August 8th, and despite many difficulties the church was completed and dedicated that year. From its inception the congregation functioned as a summer congregation under the Presbyterian Church, later under the United Church of Canada, but always as a community church. The worshippers, the officials, the ministers and the musicians who provide leadership for the services are drawn from many Christian communions.
During the winter of 1943 the original structure collapsed under an unusually heavy fall of snow. The officials acted at once to rebuild and the present building was erected at a cost of $4,000.00. Many of the pews, the kneeling benches and other furnishings are the gifts of members of the congregation.
On Sunday, August 2nd, 1969, the memorial cairn in front of the church was dedicated to the memory of Professor J. Watson Bain, a long time member and official of the congregation. On the top of the cairn is mounted the old bell from the original church which still rings out to summon the people to worship.
In 1974 a dock was built on Lake of Bays directly in front of the church so that cottagers may come to church by boat. The length of the church was extended in 1981 to provide a narthex and additional seating. Electric heating provides comfort on cool days.